Charge: 7% of budget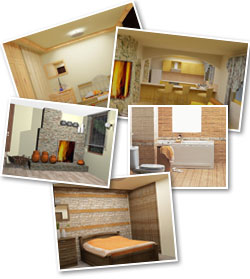 Decorating an apartment can be an enormous challenge and requires a lot of time, creativity and patience. We have a solution for those who don't have any of the above but still want to feel comfortable in their new home or want a decent furnish for the apartment they are renting out. We offer custom furnish packages based on a fixed budget as well as luxurious interior design.
If money is not a problem and you are after a more modern and unique look of your apartment then we have the right solution for you. An interior specialist in our team will do a 3D model of your apartment with a style matching your criteria. This might include suspended ceilings, integrated lights in walls/ceiling/furniture, decorative elements on walls etc.
We charge 7% commission on the furniture package price and we take care of the purchase, delivery and fitting in of the floorings, furniture, lamps, carpets, curtains and so on.
In case you require 3D interior design made the price will be 18 euro per sq m and the furnishing and decoration is once again matched to a specified budget.
ask us about this service
Before
After
Repairs and Refurbishment
find out more
Reoccurring Payment of Communal Bills
find out more
Landscaping And Gardening
find out more